About your therapist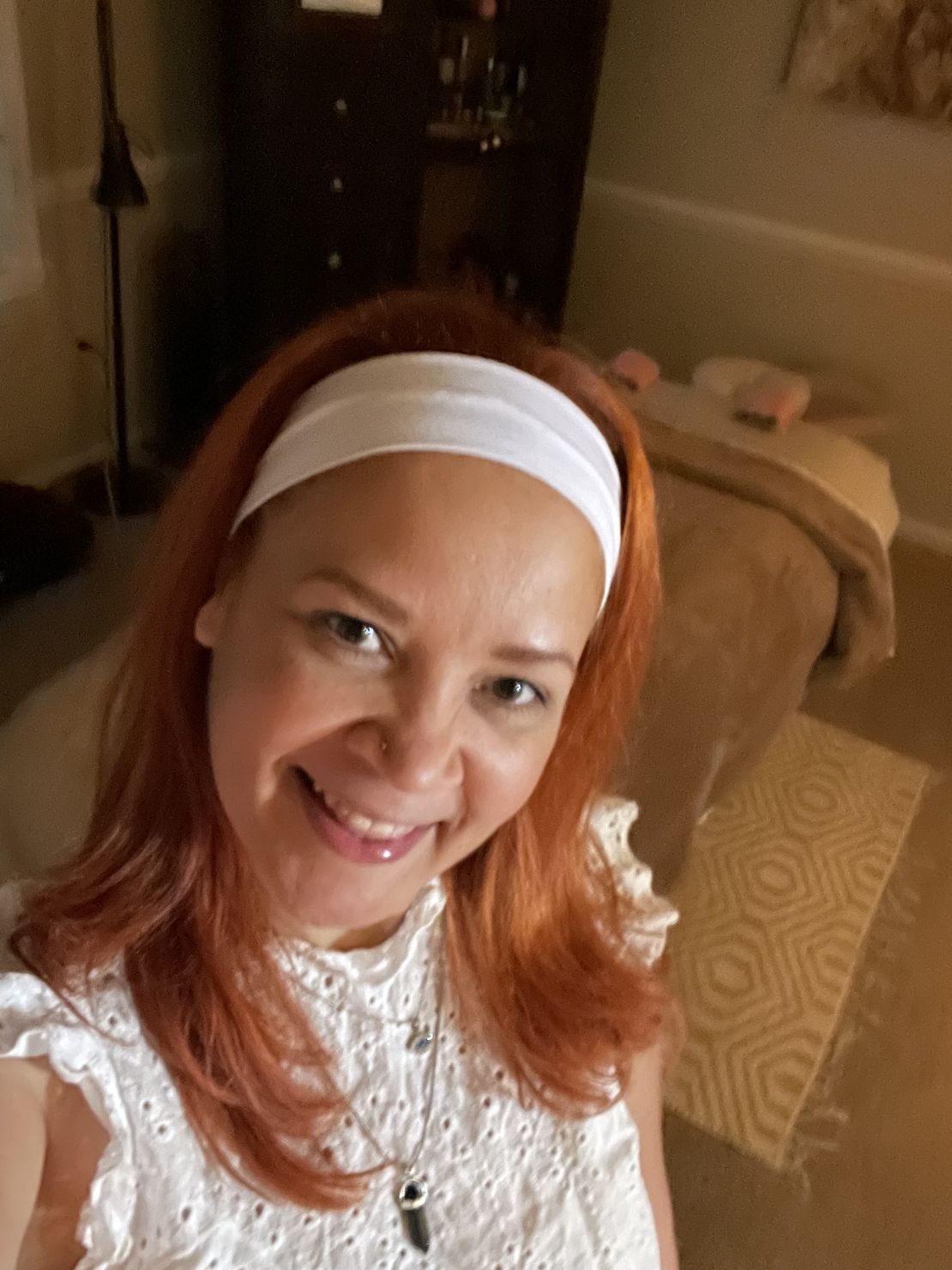 My name is Ginger Luised, I am the owner and massage therapist (LMT # 10864) at Prana Massage, I have always thought that there must be a good connection between body, mind and soul to get a perfect balance. This is how Prana Massage comes to my life, a 25-year dream come true. You wonder what is Prana? Prana is vital energy, subtle force that makes the world evolve, prana is breathing.
I started the practice in therapeutic massage since 1994. In the search for well-being focused on each therapy I decided to certify in 2006 as a Yoga Instructor by IYTA (International Association of Yoga Teachers, Puerto Rico Chapter), 2012 I took classes to manage pain in the Red Holistica, Puerto Rico. In 2014, I acquired a Certification of Basic Craniosacral Therapy and Reiki Level 1, in 2014-2015 I obtained other certifications in Thai Herbal Ball, Cupping Therapy, Reflexology, Shiatsu, Poultices, Spa Techniques and Body Contouring.
Based on all these studies, create a service menu adding therapies for pain management, holistic, relaxation and body contouring. Techniques designed for the comfort of each person who is interested in obtaining more information or is simply accustomed to performing a specific therapy. I believe that each massage should be personalized for the well-being of each person, always focusing on what they need that day of therapy, I do not believe that for using some type of tool that facilitates recovery you have to pay an extra cost or a different price for each massage modality.
In my therapies I include different modalities: deep tissue, Swedish, hot stone, tuning forks, cupping therapy, Thai herbal ball massage, cryotherapy, hot towels, Kansa wand massage, vibrotherapy, vacuumtherapy, aromatherapy, CBD oils or ointments.
I feel blessed to be able to help you in your healing process, whether physical, emotional or spiritual, through massage.
I am a certified member of AMTA, American Massage Therapy Association.
Conoce un poco de tu terapista
Mi nombre es Ginger Luised, soy dueña y terapista de masaje (LMT #10864) en Prana Massage, siempre he pensado que debe haber una buena conexion entre cuerpo,mente y alma para obtener un perfecto balance.
Es asi como Prana Massage llega a mi vida, un sueño de 25 años hecho realidad. Te preguntaras Que es Prana? Prana es energia vital, fuerza sutil que hace evolucionar el mundo,prana es respiracion.
Comencé la práctica en masaje terapéutico desde 1994. En la busqueda por el bienestar enfocado en cada terapia decidi certificarme en el 2006 como Profesor de Yoga por IYTA (Asociación Internacional de Profesores de Yoga, Capítulo de Puerto Rico), 2012 tomé clases para manejo de dolor en la Red Holistica,Puerto Rico. En el 2014, adquirí una Certificación de Terapia Craneosacral Básica y Reiki Nivel 1, en el 2014-2015 obtuve otras certificaciones en Thai Herbal Ball, Cupping Therapy, Reflexologia, Shiatsu, Cataplasmas, Tecnicas de Spa y Body Contouring.

Basado en todas estos estudios cree un menu de servicio añadiendo terapias para manejo de dolor,terapias holistica, de relajacion y contorno corporal. Tecnicas diseñadas para la comodidad de cada persona que le interese obtener mas informacion o simplemente esta acostumbrado a realizarse una terapia en especifico. Creo que cada masaje debe ser personalizado para el bienestar de cada persona,siempre enfocandonos en lo que necesita ese dia de la terapia, no creo que por usar algun tipo de herramienta que facilite la recuperacion tenga que pagar un costo extra ni un precio diferente por cada modalidad de masaje.
En mis terapias incluyo diferentes modalidades: tejido profundo, sueco, piedra caliente,diapasones, terapia con ventosas, masaje con bolas de hierbas, crioterapia, termoterapia,toallas calientes, Kansa wand massage, vibrotherapy, vacuumtherapy, aromaterapia , aceites o ungüentos de CBD.
Me siento bendecida de poder ayudarte en tu proceso de sanacion ya sea físico, emocional o espiritual a traves del masaje.
Soy
miembro certificada de AMTA, American Massage Therapy Association