Services & Rates/ Servicios & Tarifas
Post-Op & Anti-inflammatory Therapy
Post Op Massage is designed to reabsorb and eliminate post-surgical edema (fluids), which accumulates around the operated area and causes very annoying tension for the client. In our post-op treatment we begin with a treatment that allows us to release fluids and reduce inflammation. We finish with draining massages to mobilize the skin after surgery when the surgeon orders it, each session is personalized.
El Masaje Post Operatorio está diseñado para reabsorber y eliminar los edemas (líquidos) posquirúrgicos, que se acumulan alrededor de la zona operada y provocan una tensión muy molesta para el cliente. En nuestro tratamiento post-operatorio comenzamos con un tratamiento que nos permite liberar líquidos y desinflamar. Terminamos con masajes drenantes para movilizar la piel después de la cirugía cuando el cirujano lo ordene, cada sesión es personalizada.
Post Op Massage / Masaje Post Operatorio
Posto-Op treatment is aimed at the resorption and elimination of the post operative edema, which accumulates around the intervened area and causes a very annoying tension for the patient. In the postoperative period, massages are performed to mobilize the skin after liposuction, when the surgeon orders it, each session is personalized according to the client's needs.
(ESP) El tratamiento postoperatorio va encaminado a la reabsorción y eliminación de la edema post quirúrgico, el cual se acumula alrededor de la zona intervenida y provoca una tensión muy molesta para el paciente en el postoperatorio se realizan masajes para movilizar la piel luego de la liposucción cuando el cirujano lo ordene, cada sesion es personalizada acuerdo a necesidad del cliente.
Drenaje linfático manual (DLM)

Terapia de luz infrarroja

Ventosas Linfáticas

Ventosas para Fibrosis

Kinesiotape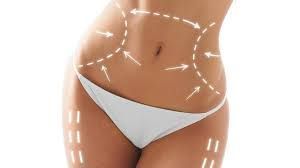 Post-Op Anti-Inflammatory Therapy (No Massage)
Anti-inflammatory treatment will help you reduce fluid retention in your body, reduce tissue pressure, reduce inflammation and bruising. At the same time it nourishes your skin. You can add to your Post-Op massages or do it as an individual treatment 6 sessions are recommended, 2 times a week.
Este tratamiento anti-inflamatorio te ayudará con la disminución de retención de líquidos en el cuerpo, reducirá la presión de los tejidos, mejorará la inflamación y la reducción de hematomas. Al mismo tiempo nutre tu piel. Puedes añadir a tus masajes Post-Op o realizarlo como Tratamiento individual. Se recomienda 6 sesiones, realizadas 2 veces por semana
Post-Op Lipo Arms / Masaje Lipo Brazos
Post-Op Arms Massage basically includes the same service as the Post-Op Massage, we are exclusively dedicated to working on the arms area only.
El Masaje Post-Operatorio de Brazos básicamente incluye el mismo servicio que el Masaje Post-Operatorio, nos dedicamos exclusivamente a trabajar solo la zona de los brazos.
Relaxing Massage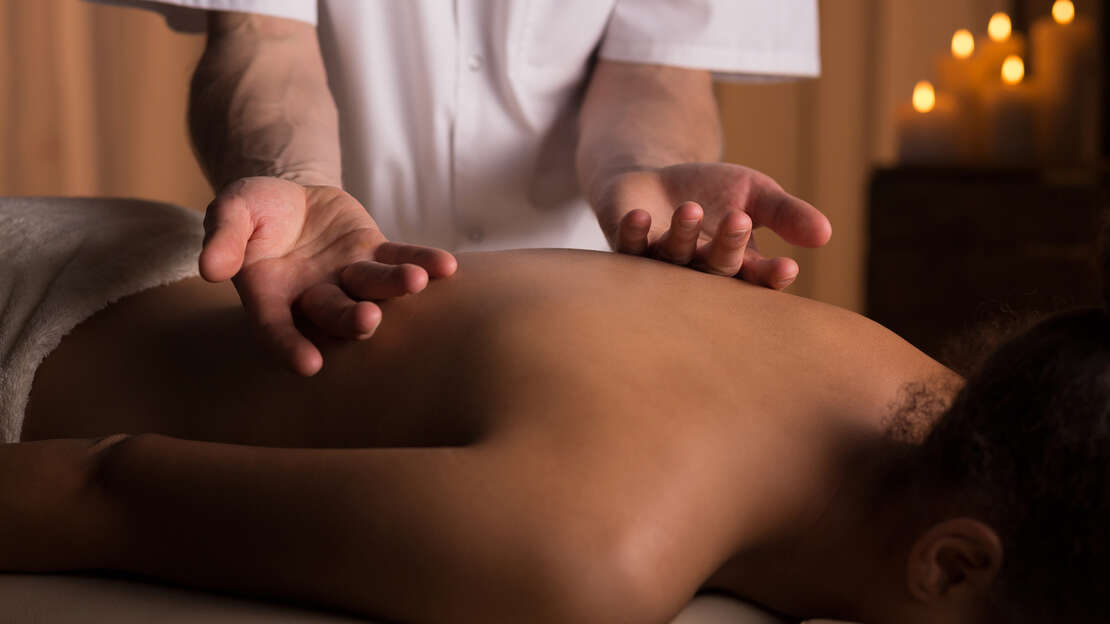 Swedish massage uses firm but gentle pressure to promote relaxation, ease muscle tension and create other health benefits. It is a classic massage that will ease your stress and allow you to slip into a calm state of relaxation.
El masaje sueco utiliza una presión firme pero suave para promover la relajación, aliviar la tensión muscular y crear otros beneficios para la salud. Es un masaje clásico que aliviará su estrés y le permitirá deslizarse a un estado de relajación tranquilo.
Deep Tissue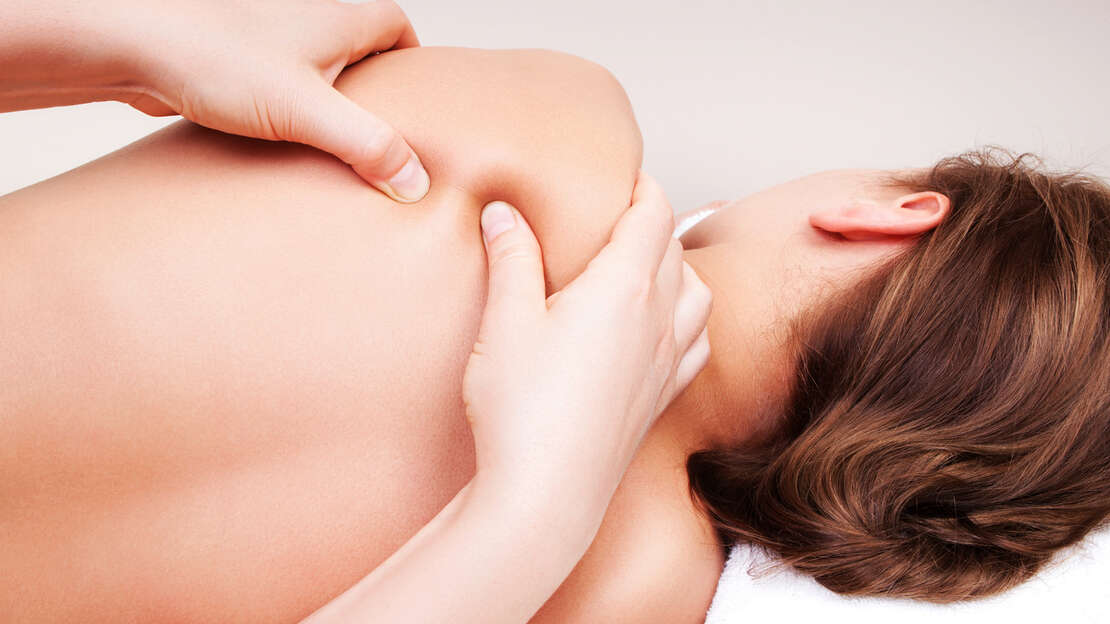 Deep Tissue Massage is a form of bodywork that aims to relieve tension in the deeper layers of tissue in the body. Is a highly effective method for releasing chronic stress areas due to misalignment, repetitive motions, and past lingering injuries.
(ESP) Masaje de Tejido Profundo es una forma de trabajo corporal que tiene como objetivo aliviar la tensión en las capas más profundas de tejido en el cuerpo. Es un método altamente efectivo para liberar áreas de estrés crónico debido a desalineación, movimientos repetitivos y lesiones pasadas persistentes.
The Stone Massage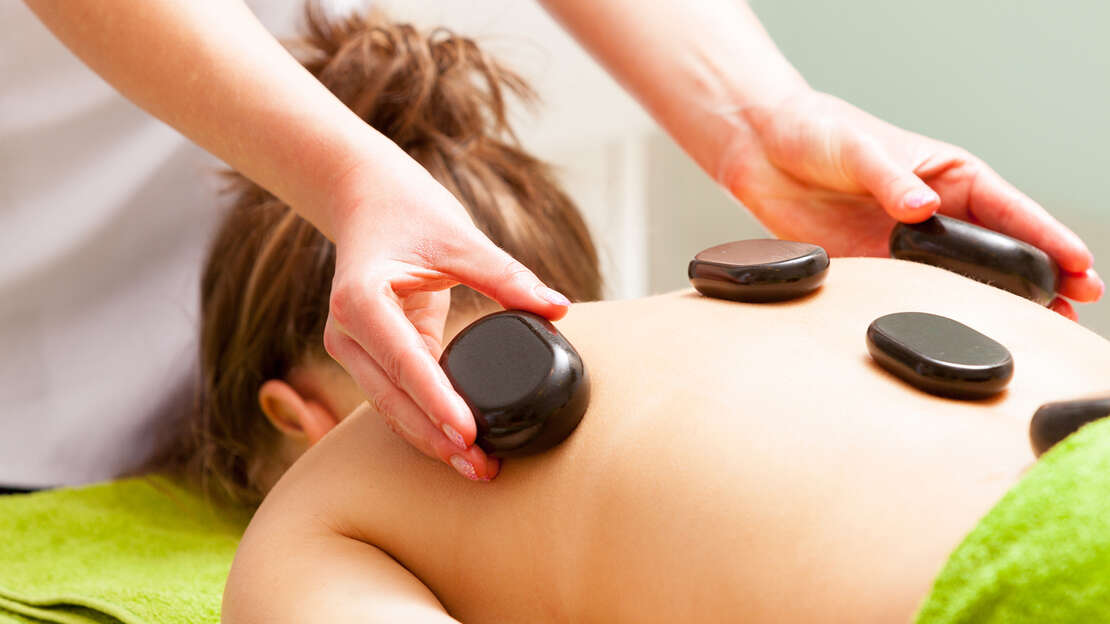 Combines traditional therapeutic massage with the application on the skin of stones at different temperatures, to facilitate the flow of vital energy and thus alleviate physical and emotional disorder.
Combina el masaje terapéutico tradicional con la aplicación sobre la piel de piedras a distintas temperaturas, para facilitar que fluya la energía vital y aliviar así trastornos físicos y emocionales.
Mother To Be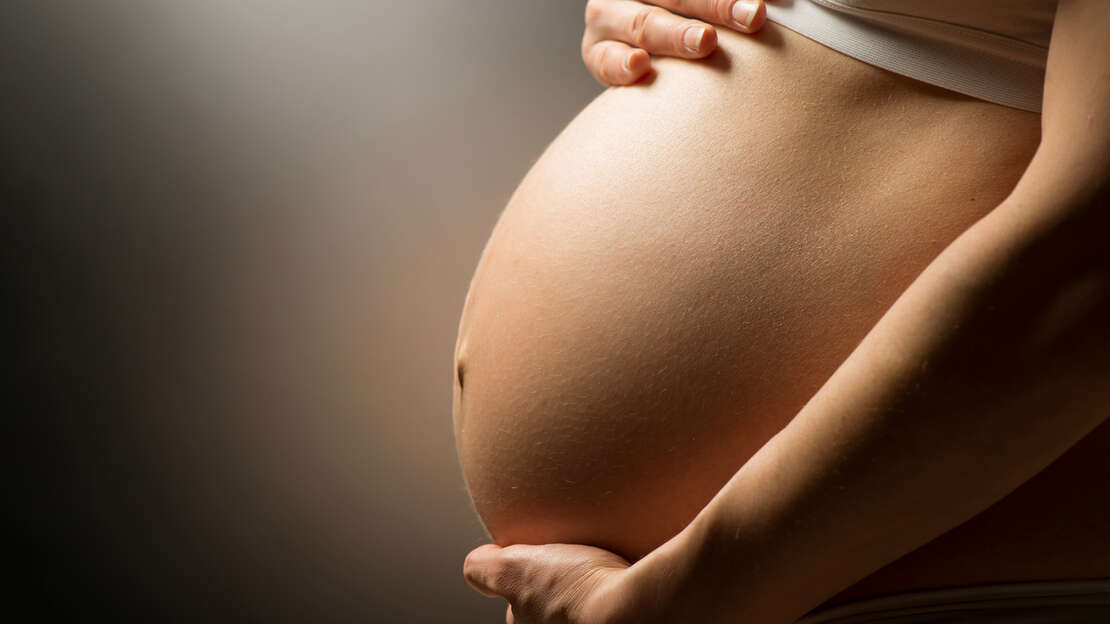 Prenatal massage can help reduce anxiety, decrease symptoms of depression, relieve muscle aches and joint pains
El masaje prenatal puede ayudar a reducir la ansiedad, disminuir los sintomas de la depresion, aliviar los dolores musculares y articulares.
Cupping Massage
Cupping Therapy relieves muscle pain, chronic pain, rheumatoid arthritis, stiffness of the back and neck, relieves pain fibromyalgia, plantar fasciitis,reduce inflammation, tension and stress. Integrated massage.
La terapia de ventosas alivia dolor muscular, dolor crónico, artritis reumatoide, rigidez de la espalda y el cuello, fibromialgia, fascitis plantar, reduce la inflamación, tensión y estrés. Integrando técnicas de masaje adecuadas previas a la consulta.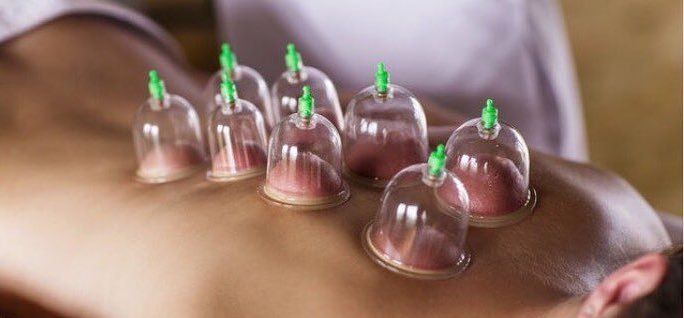 Eclectic Massage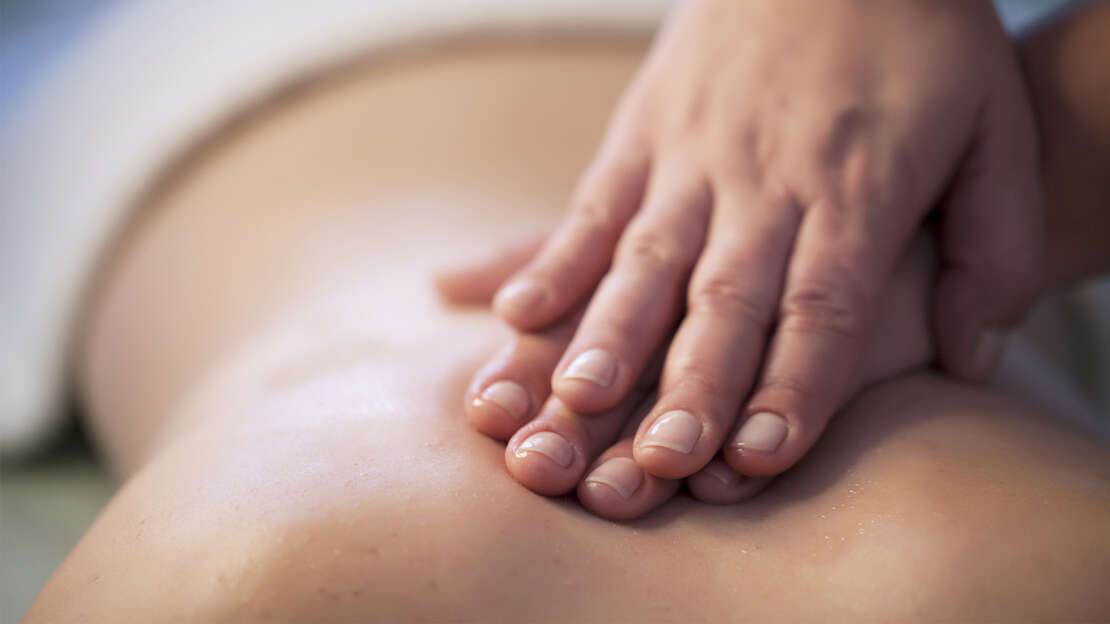 Eclectic massage is a new concept of massage that brings together techniques of different types of massage and is not only massage technique, it also contains aromatherapy, music therapy, in fact more than a massage is an experience.
El masaje Ecléctico es un nuevo concepto de masaje que reúne técnicas de distintos tipos de masaje y no es solo técnica de masaje, también contiene aromaterapia, musicoterapia, en realidad más que un masaje es una experiencia.
Migraine Relief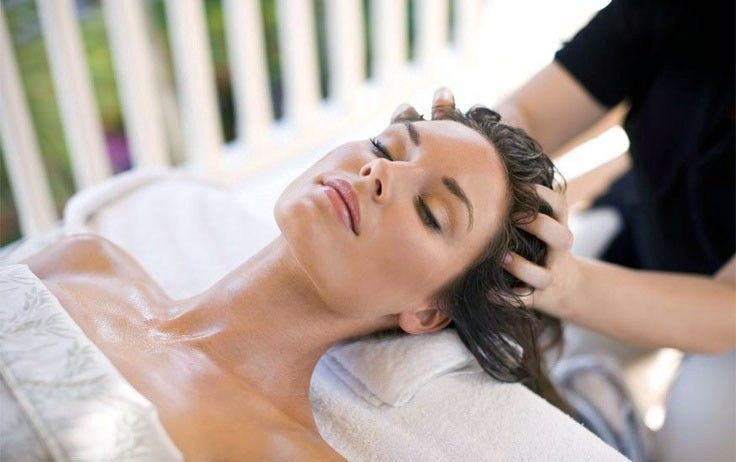 Migraine relief, headache, and stress. Focusing on muscles of tension, head, neck and shoulders. Using craniosacral, myofascial technique, pressure point, jade roll and marble cold stone, basalt stone and aromatherapy.
Alivio de migrañas, dolor de cabeza y estres. Enfocandonos en musculos de tension, cabeza, cuello y hombros. Utilizando tecnicas de craniosacral, tecnicas miofasciales, puntos de presion, rolillo de jade y piedras de marmol frio, basalt stone y aromaterapias.
Happy Legs
Treatment consists of a 30 minute leg massage. We finish the treatment with 15 minutes of application of cold bandages to improve circulation.

Tratamiento consiste en un masaje de 30 minutos en las piernas . Finalizamos el tratamiento con 15 minutos de aplicación de vendajes fríos para mejorar la circulación.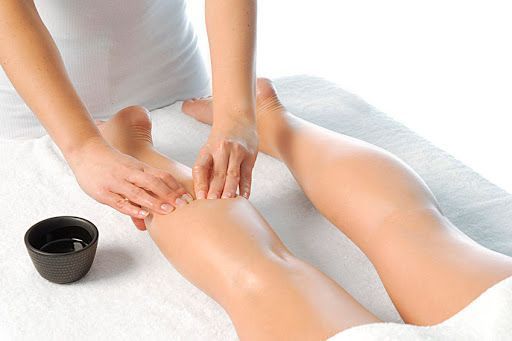 Herbal Ball Massage
The blend of traditional Thai herbs used in these compresses has a relaxing and invigorating effect on the body and mind, soothing sore and overworked muscles while giving the body's energy reserves a huge boost.
La combinación de hierbas tradicionales tailandesas utilizadas en estas compresas tiene un efecto relajante y vigorizante en el cuerpo y la mente, alivia los dolores musculares y el exceso de trabajo al tiempo que da un gran impulso a las reservas de energía del cuerpo.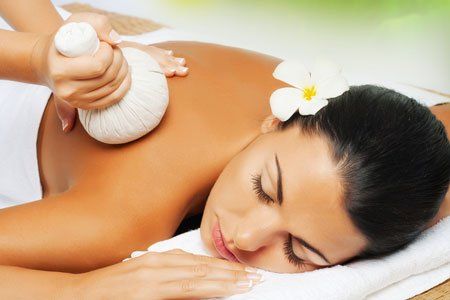 Himalayan Heart Salt Stone Massage
Himalayan Heart Stone Massage is an innovative healing technique using warm salt crystal stones to ground and balance the body's electromagnetic field, central nervous system and meridians. Salt crystals from an ancient primal sea beneath the Himalayan Mountains are hand-carved into massage stones that gently soothe away an accumulation of stress, tension and pollutants, while bringing the mind, body and soul, into balance.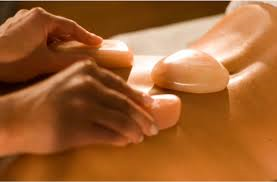 El masaje con piedras del corazón del Himalaya es una técnica de curación innovadora que utiliza piedras calientes de cristal de sal para moler y equilibrar el campo electromagnético del cuerpo, el sistema nervioso central y los meridianos.Los cristales de sal de un antiguo mar primitivo debajo de las montañas del Himalaya están tallados a mano en piedras de masaje que alivian suavemente una acumulación de estrés, tensión y contaminantes, al tiempo que equilibran la mente, el cuerpo y el alma.espíritu.
Body & Mind Aromatic Massage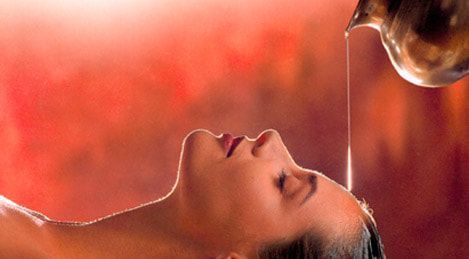 A personalized mixture of base oil with essential oils, warm, that fall down the forehead towards the scalp, neck and shoulders and then receive a full body massage for the restoration and renewal of the mind, body and spirit.Each therapy is personalized.
Una mezcla personalizada de aceite base con aceites esenciales tibios, que van cayendo por la frente hacia el cuero cabelludo,cuello y hombros para luego recibir un masaje de cuerpo completo para la restauración y renovación de la mente, el cuerpo y el espíritu. Cada terapia es personalizada.
Prana Healing Massage
Cleaning energy with sage : Energy cleaning with sage to reduce stress, clean energy fields, among other benefits. Tibetan Bowl & Turn Folk: Relieve stress and calm anxiety, control insomnia, hyperactivity and increase mental clarity. Turn folk relieves pain, balances the nervous system, reduces inflammation, improves circulation and oxygenates the organs
Himalayan Salt Stone: Relieves pain, balances the nervous system, reduces inflammation, improves circulation and oxygenates the organs. Herbal ball: It helps us with anxiety, insomnia, stress, muscle fatigue, swelling and migraine.


Limpieza energética con salvia: Para reducir el estrés, limpiar campos energéticos, entre otros beneficios.Tibetan Bowl & Turn Folk: Alivia el estrés y calma la ansiedad, controla el insomnio, la hiperactividad y aumenta la claridad mental. Turn folk alivia el dolor, equilibra el sistema nervioso, reduce la inflamación, mejora la circulación y oxigena los órganos.
Piedra de Sal del Himalaya: Alivia el dolor, equilibra el sistema nervioso, reduce la inflamación, mejora la circulación y oxigena los órganos.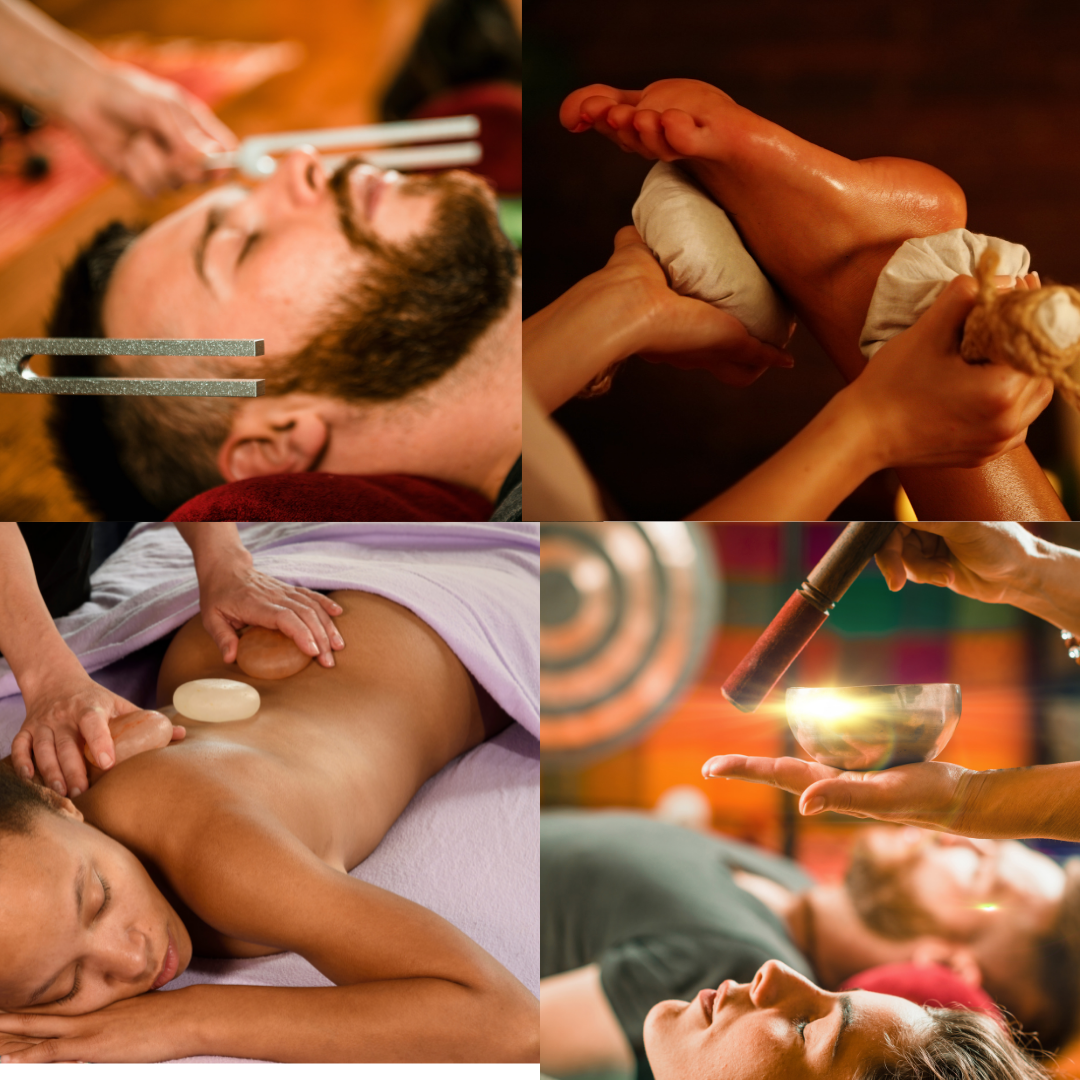 Bola de hierbas: Nos ayuda con la ansiedad, el insomnio, el estrés, la fatiga muscular, la hinchazón y la migraña.
Mu-Xing Therapy
Mu-Xing Therapy is a treatment using warm bamboo and rosewood tools to perform relaxing or deep tissue massage techniques. The warmth of the tools helps to melt muscular tension and promote a deep sense of overall well-being and relaxation.
La terapia Mu-Xing es un tratamiento que utiliza herramientas cálidas de bambú y palo de rosa para realizar técnicas de masaje relajante o tejido profundo. La calidez de las herramientas ayuda a disminuir la tensión muscular y a promover una profunda sensación de bienestar general y relajación.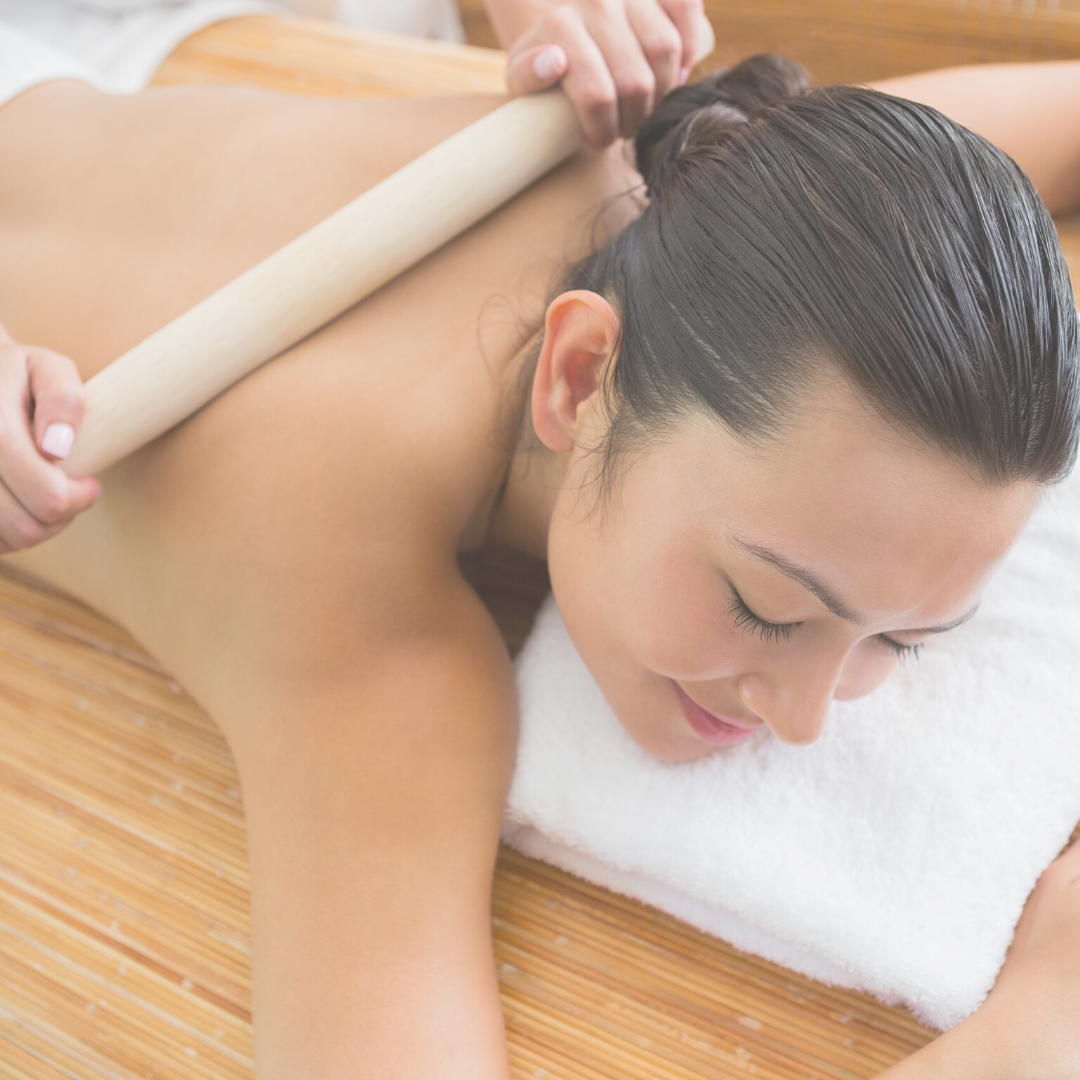 Kansa Wand Face & Foot Massage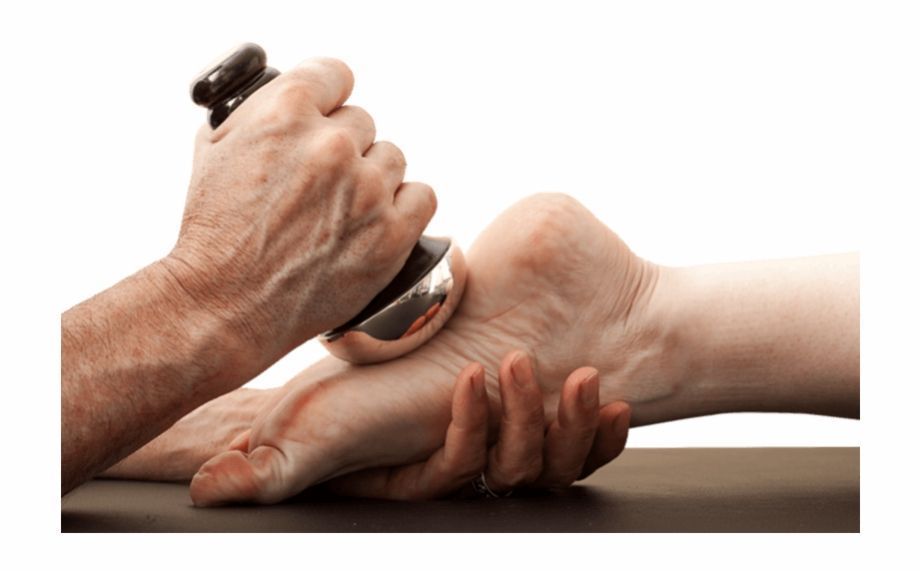 Treatment for your feet KANSA FACE & FOOT MASSAGE- consists of the activation of the marmas or ports of access to vital energy (PRANA), being stimulated allows this vital energy to flow and the balance of the body is restored.
Tratamiento para tus pies KANSA FACE & FOOT MASSAGE- consiste en la activacion de los marmas o puertos de acceso a la energia vital (PRANA), al ser estimulados permite que fluya esta energía vital y se restablezca el equilibrio del cuerpo.
Body Polish / Pulido Corporal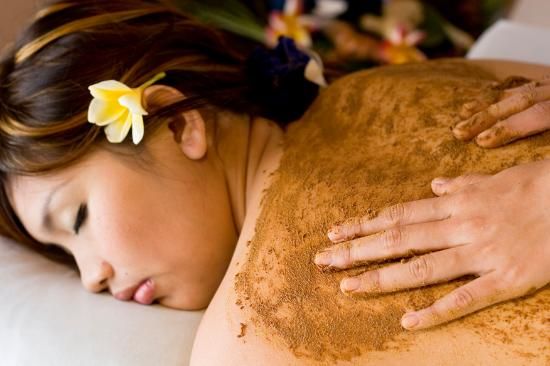 Exfoliating Body Scrub is a natural, indulgent body scrub that gently exfoliates and polishes skin with natural sugar cane, leaving a healthy, natural glow. Infused with certificated pure grade therapeutic essential oils.
Es una exfoliación corporal natural e indulgente que exfolia suavemente y pule la piel con azúcar negra natural, dejando un brillo saludable y natural.
Con una infusión de aceites esenciales certificados de grado terapeutico puros.
Prana Body Detox Wrap
The himalayan salt detoxification body wrap is similar to a three-day juice fast. The opening of the specific points of lymphatic drainage followed by the himalayan salt detoxification body wrap is an extensive exfoliation with detoxifying essential oils, a wrapping and absorption of natural minerals that the body needs. The friction of the exfoliation helps to sedate the central nervous system, allowing the body to relax and absorb all the nutrients during the wrap. Reabsorption occurs during the wrap, which promotes the detoxification process. Scalp massage with aromatherapy included.
La envoltura corporal de desintoxicación de sal del himalayan es similar a un ayuno de jugo de tres días. La apertuta de los puntos especificos del drenaje linfatico seguido de la envoltura corporal de desintoxicación de sal del himalayan es una exfoliación extensa con aceites esenciales desintoxicantes, una envoltura y absorción de minerales naturales que el cuerpo necesita. La fricción de la exfoliación ayuda a sedar el sistema nervioso central, permitiéndo que el cuerpo se relaje y absorba todos los nutrientes durante la envoltura. La reabsorción ocurre durante la envoltura, lo que promueve el proceso de desintoxicación. Masaje cuero cabelludo con aromaterapia incluido.
Body Sculpting Non-invasive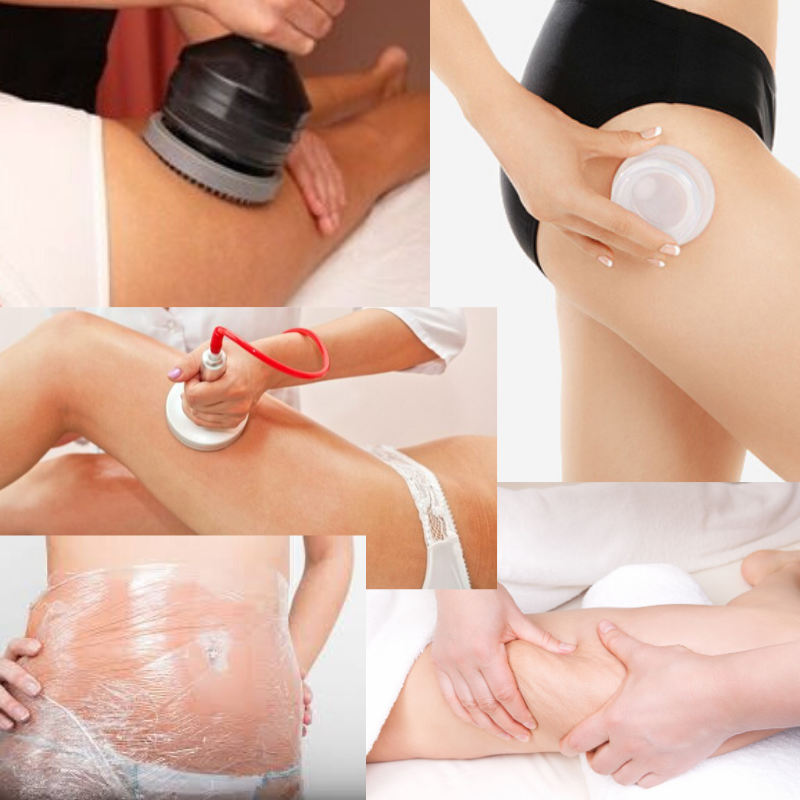 This service is for people who have small areas of stubborn fat that do not go away with diet and / or exercise. This treatment is also performed for people who have undergone liposuction, a Brazilian butt lift or any other cosmetic surgery with more than 3 months of their procedure and want to optimize or maintain the results of the surgery. This treatment helps sculpt the body by removing any unwanted fat deposits and reduces the appearance of cellulite.
Este servicio es para personas que tienen pequeñas áreas de grasa rebelde que no desaparecen con la dieta y / o el ejercicio. Este tratamiento también se realiza para personas que se han sometido a una liposucción, un lifting de glúteos brasileño o cualquier otra cirugía estética con mas de 3 meses de su procedimiento y desean optimizar o mantener los resultados de la cirugía. Este tratamiento ayuda a esculpir el cuerpo eliminando cualquier depósito de grasa no deseado y reduce la apariencia de la celulitis.
Infrared Sauna Detox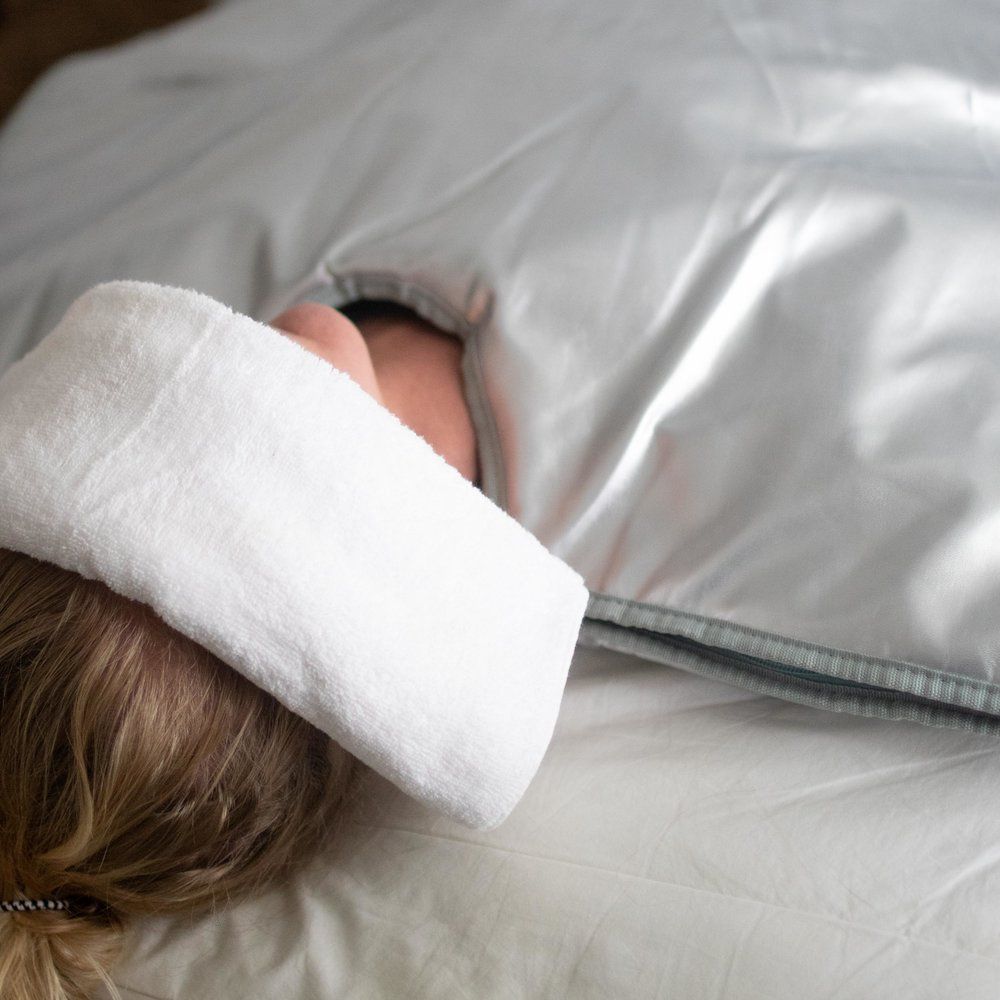 Flushes toxins and heavy metals out of the body, Provides pain relief to those with back issues, arthritis,sore muscle and joints. Boost immune system function. Reduce STRESS and fatigue. Increase overall blood flow, Weight loss, Promotes healing and skin regeneration, Burn up 500 calories per session. Two options to choose from: 30 minute infrared sauna blanket only or 45 minute infrared sauna blanket with thermal body wrap.
Elimina toxinas y metales pesados del cuerpo, proporciona alivio del dolor a las personas con problemas de espalda, artritis, dolor muscular y articular. Aumenta la función del sistema inmunitario. Reduce el ESTRÉS y la fatiga. Aumenta el flujo sanguíneo general, la pérdida de peso, promueve la curación y la regeneración de la piel, quema 500 calorías por sesión. Dos opciones para elegir: solo manta sauna de infrarrojos 30 minutos o manta sauna infrarrojos d 45 minutos con envoltura corporal térmica.
Woodtherapy Ritual
Body wood therapy consists of a series of massages to tone the body, minimize fluid retention, treat localized fat, and stimulate elastin production. In addition to offering unique results and sensations.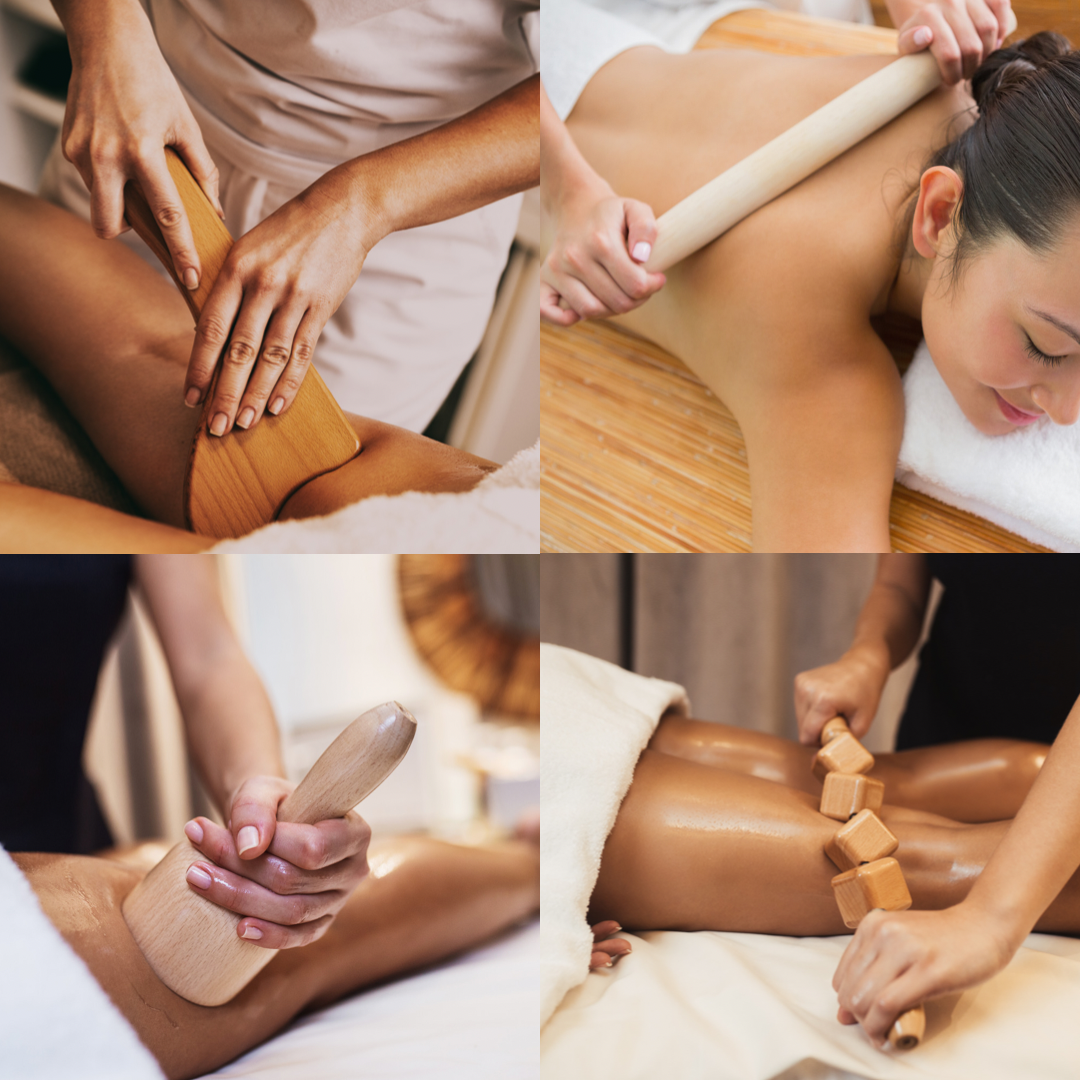 La maderoterapia corporal consiste en una serie de masajes para tonificar el cuerpo, minimizar la retención de líquidos, tratar la grasa localizada, y estimular la producción de elastina. Además de ofrecer resultados y sensaciones únicas.
Wood + Vacuum Massage
Cellulite reducing massage, 1 hour in body work areas to stimulate circulation and break down fatty adiposit.Using different techniques in Massage, Cupping therapy and Wood therapy. Discount for available packages.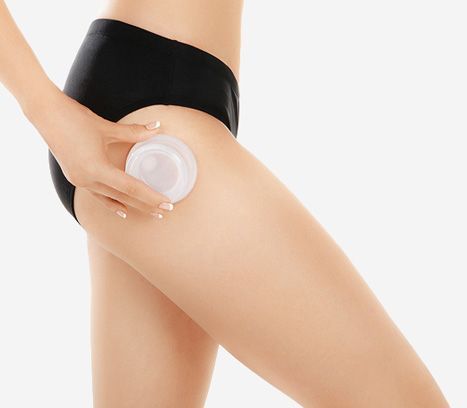 Masaje reductor de celulitis,1 hora en áreas de trabajo del cuerpo para estimular la circulación y romper adipocitos grasos. Usando diferentes tecnicas en el masaje, ventosas y maderoterapia. Descuento por paquetes disponibles.
Endermotherapy /Endermoterapia
The therapeutic application of vibrations, an electromechanical source, driven by small motors, vibration produces drainage and entrainment of liquids, circulates blood, lymph and interstitial fluids better and promotes the expulsion of toxins, destroys fat deposits and decreases cellulite.
La aplicación terapéutica de las vibraciones, es una fuente electromecánica, impulsada por pequeños motores, la vibracion produce el drenaje y arrastre de los líquidos, circula mejor la sangre, la linfa y los fluidos intersticiales y promueve la expulsión de toxinas, destruye los depositos de grasa y disminuye la celulitis.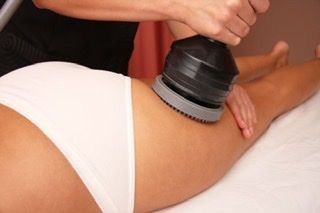 Massage Enhancement
15 - 20 minutes: $15 - $20
Add any these services to your massage / Añade cualquiera de estos servicios a tu masaje:
15 minutes Extra Neck, Shoulder & Back / 15 Minutos Extra en Cuello, Hombros y Espalda
15 minutes Vibroplate / 15 minutos Plato vibratorio
15 minutes Kansa Wand Foot Massage
15 minutes Kansa Wand Detoxifying facial Massage
15 minutes Aromatic Scalp Massage / 15 minutos masaje cuero cabelludo
15 minutes Migraine relief with cold stone / 15 minutos alivio dolor de migraña con piedras frias
15 minutes Coconut & White Ginger Hydrating Hand and Foot.
20 minutes Infrared Light Therapy/ 20 minutos luz infraroja
Massage Party/Corporate Chair Massage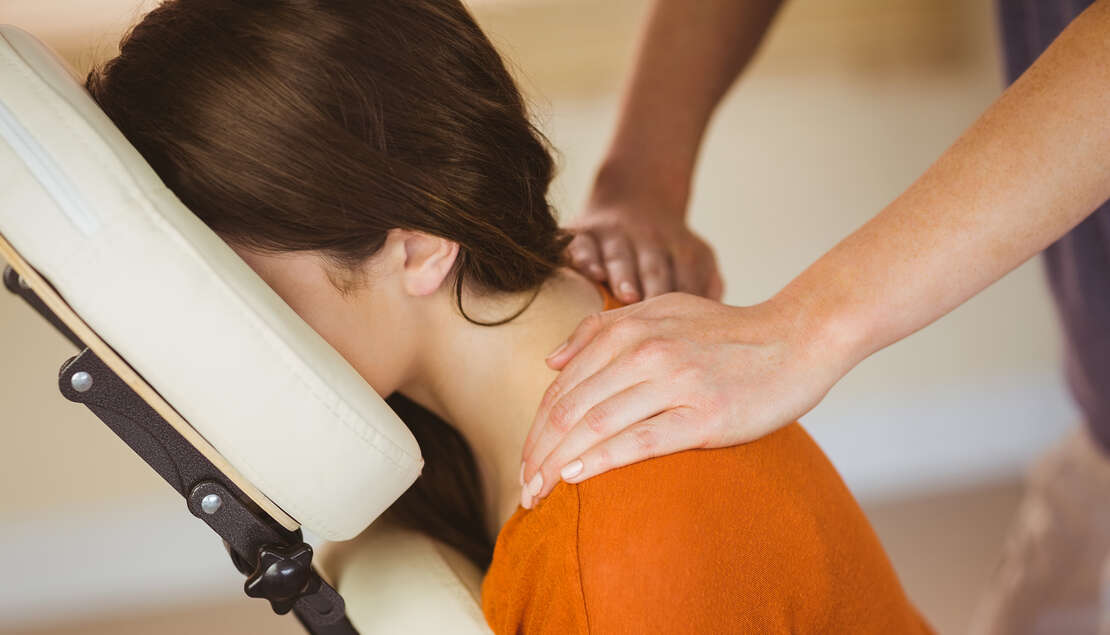 Chair massage is a popular way of relieving stress and releasing tension right in your party,event or workplace. You receive 15 minutes your massage in a specialized ergonomic chair which I bring to your location. In addition to the usual health benefits of massage, another benefit of chair massage is that it is done over the clothing. With seated massage, you can avoid the discomfort and awkwardness that you may feel in disrobing for a traditional massage. Also, chair massage sessions are usually shorter than traditional massage, making it convenient enough to fit into your busy schedule.Services to companies,party and events.50% deposit is required.
El masaje de silla es una forma popular de aliviar el estrés y liberar la tensión en su fiesta,evento o lugar de trabajo. Usted recibe 15 minutos de masaje en una silla ergonómica especializada que llevo a su ubicación. Además de los beneficios de salud habituales del masaje, otro beneficio del masaje de silla es que se realiza sobre la ropa. Las sesiones de masaje de silla suelen ser más cortas que el masaje tradicional, por lo que es lo suficientemente conveniente como para adaptarse a su apretada agenda. Servicios a empresas, fiestas y eventos. Se requiere el 50% déposito.